Site Descriptions
Sites: Total of 74 sites plus 5 cabins.
Full Service Park: Water, Electric (50 or 30 amp), Sewer, Cable TV.
We do not guarantee satellite reception in the park due to the trees.
All sites have picnic tables, most sites have patios, some have shade,
and some have fire rings.
Our pull-thru sites can accommodate most Big Rigs.
Advance reservations recommended.
Sorry, no fire rings in our pull-thru sites due to insurance
and fire marshal regulations.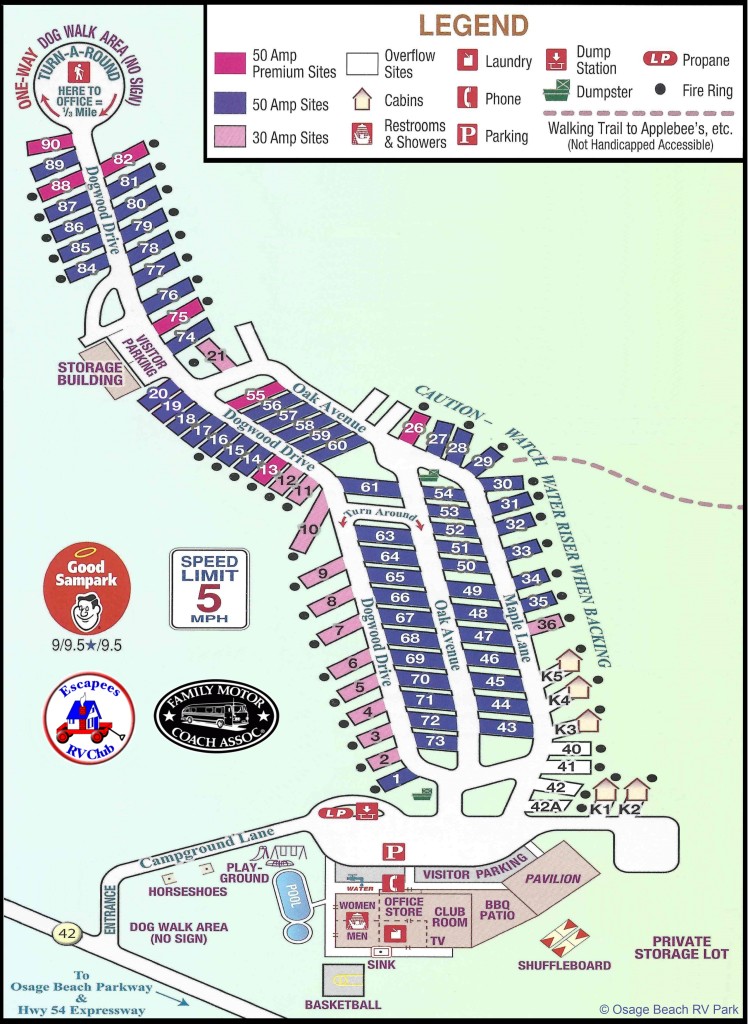 Camping Cabins
Click Thumbnail to see larger image. Click on large image to close.
Camping Cabins are available for guests who want to stay over, friends who do not own an RV, or the family who wants the tenting experience without the hassle.
12×12 room with a 6 ft porch. Picnic table and fire ring. Comes with a double bed and a set of bunk beds with mattresses. You provide your own linens.
Sleeping accommodations only  –  no restrooms or cooking facilities. Two cabins have a half bath, and no bunk beds. All cabins are air-conditioned –  with Cable TV.
Maximum occupancy is 4 persons (including children) – 2 persons in cabins with half bath.
No more per fire marshall regulations.
Sorry – No smoking, cooking or pets allowed in the cabins.
*To be able to provide this free service to all of our guests, we limit wifi access to 1 device per site, and place basic priorities on bandwidth usage. Please be a good neighbor and refrain from large downloads or video streaming while using our service.